On September 16th, 2017, four temporary West Coast longhouses will be erected on the Legislature Lawn. Three will be designed in the style of Vancouver Island cultural groups, and one will pay homage to an analogous structure from Pacific Island Indigenous communities. Each community will be responsible for designing and programming their house.
Across the Pacific Islands, communities build sacred structures with specific customary purposes. The specific use of these buildings vary across Melanesian, Polynesian and Micronesian communities.
The following are examples:
Tonga (Polynesia): Fale Fakataha (or "Meeting House")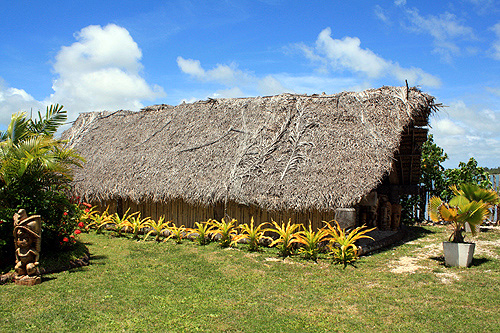 Every Tongan village has a "meeting house" where all meetings and formal kava ceremonies take place. Ranking chiefs sit on the elevated platform while the lower section is for villagers.
Aotearoa (Polynesia): Whare Runanga (or Meeting House, or House of Learning)
The Whare Runanga or Maori meeting houses is the focal point of all Maori cultural and tribal activities to this very day. It is the place where tribes and subtribes observe traditional customs, ceremonies and events. All Maori whare runanga are considered sacred, and as such, have names that are historically significant. People traditionally remove their shoes before entering.
Samoa (Polynesia): Fale tele (or "Big House")
The fale tele (big house), the most important house, is usually round in shape, and serves as a meeting house for chief council meetings, family gatherings, funerals or chief title investitures. "fale" small or large house. The fale is lashed and tied together with a plaited sennit rope called ʻafa, handmade from dried coconut fibre.
Fiji (Melanesia): Vale ni Bose (or "Meeting House")
A building of this size would serve a Fijian community as a ceremonial center for both official and private occasions. Ceremonial use might include the welcoming of another chief, discussing official matters, or carrying out the yaqona or kava ceremony. During any official meetings, women and children were forbidden to enter.
Vanuatu (Melanesia): Nakamal (Or "Chiefs' Meeting House")
A nakamal is a traditional meeting place in Vanuatu. It is used for gatherings, ceremonies and the drinking of kava. A nakamal is found in every significant Vanuatu community, but the design of the nakamal and the traditions surrounding it vary between areas.
 Papua New Guinea (Melanesia): Haus Tambaran
Palau (Micronesia): Bai